It was August 2018 when Facebook introduced Facebook Creator Studio to make scheduling of content easy for Facebook Pages and Instagram.
Why Facebook launched its own Creator Studio?
Ease of Management of Facebook pages and Instagram Account
Accessing all the features of Facebook pages and Instagram account
It provides more features than the direct use of Facebook Pages or Instagram Accounts
You can create pages and management of roles from the creator studio
You can switch between Facebook pages and across Facebook Page with Instagram accounts directly from the creator studio
Basic Requirement for using Facebook Creator Studio w.r.t Instagram
For Facebook pages, there is no additional requirement. You can start scheduling from the word go but for Instagram below are the requirements.
Instagram account must be connected with a Facebook page.
Instagram account needs to be a business account or a creator account.
Features of Facebook Creator Studio
Social Listening
Creator Studio allows you to manage comments and messages of both Facebook Pages and Instagram account at one place. Select the Facebook page connected with the Instagram account to begin managing the comments and messages.
Managing Videos via Facebook Creator Studio
Video content is more consumed by users these days and managing videos is cumbersome. With the launch of creator studio, it has made life easy of video content creators.
Features like bulk upload to a particular page with an upper limit of 50 videos at once. These videos can be published immediately or you can schedule it as required. Additionally, you can edit individual video attributes such as title, description etc.
Creator studio does not allow you to perform bulk video upload to multiple pages at once.
Creating Playlist
Just like youtube, you can create a video playlist for different topics or categories using creator studio. For every playlist, there will be a unique URL which you can share with everyone.
Performance Tracking
Creator Studio provides useful insights such as total likes, total followers, engagement on posts etc for multiple pages or individual Facebook pages. For Instagram, you can see insights for one account at a time.
For the Facebook page, you can analyse how your video content is performing and a minute dimension report is provided to you by Facebook. Currently, there are 3 dimensions available for reporting which are as follows:
3-sec view
1-minute view,
Complete View of the video.
This information can be very useful to develop your video content strategy. If your video is viewed completely that means you are providing good content, if it is viewed only for 3 seconds and they don't view it further, this means they are not at interested in the content and If you are getting a drop at 1 minute which means your content is not gripping the user's attention.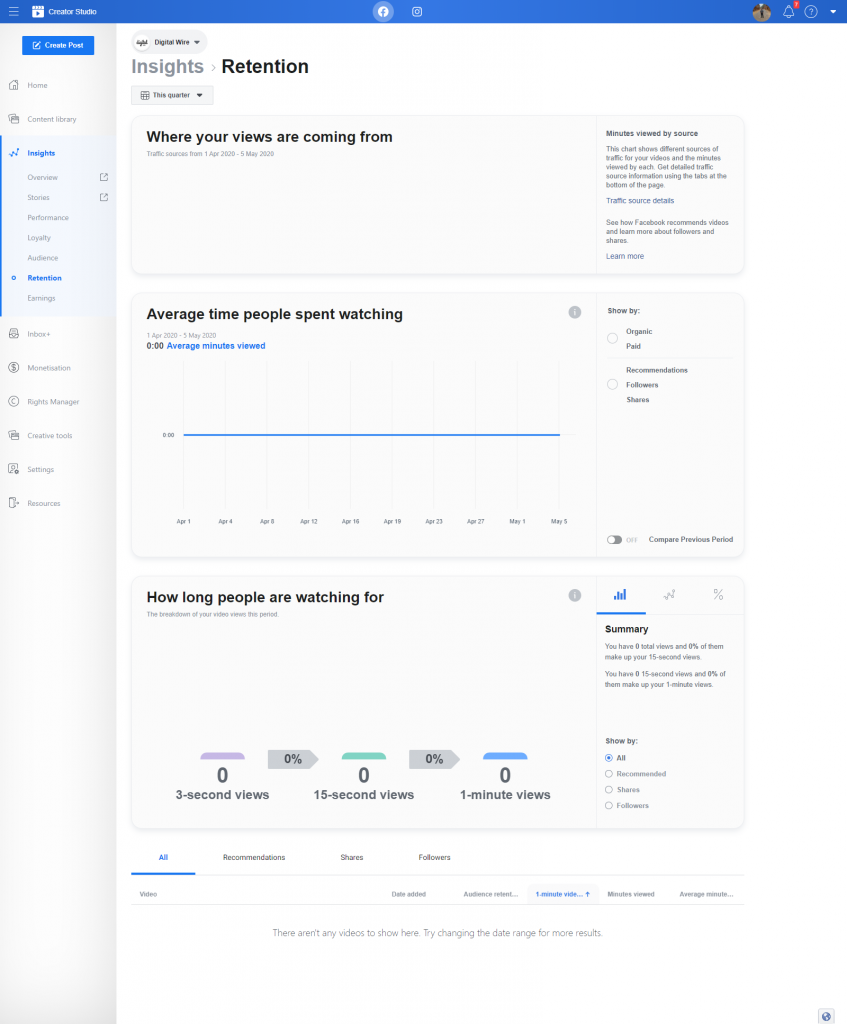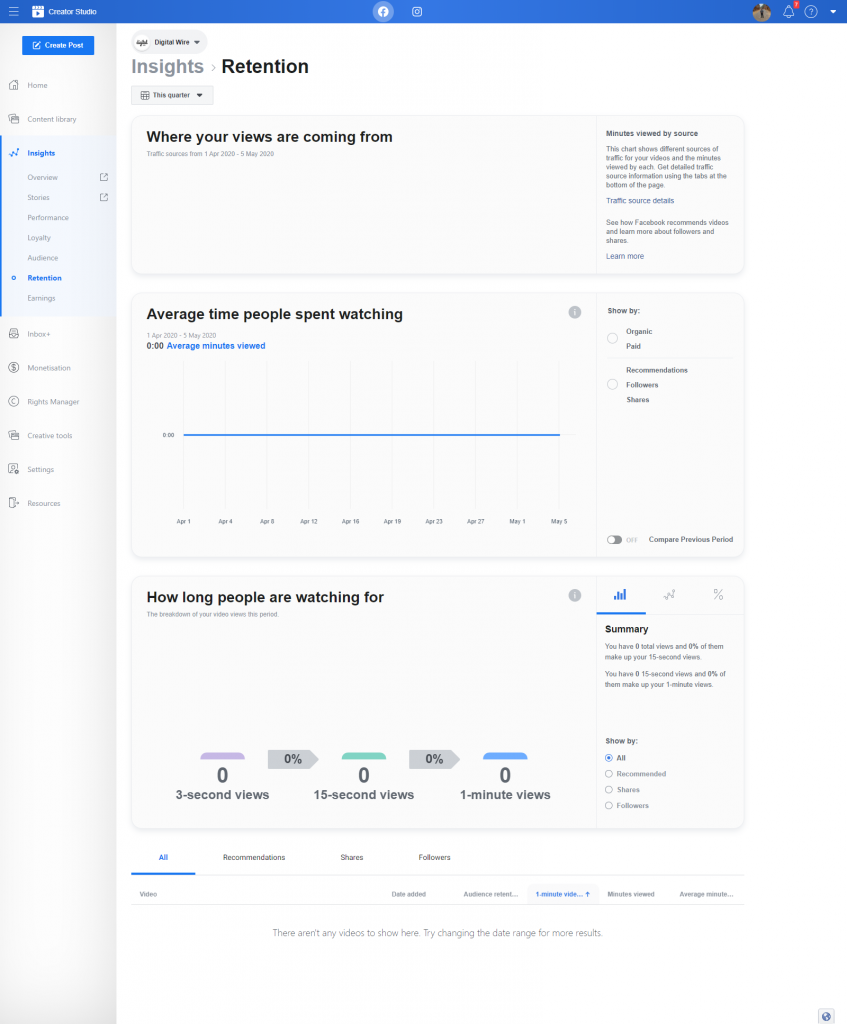 Managing IGTV and Instagram Feed using Facebook Creator Studio
To publish a video on IGTV, select an Instagram account in the creator studio, add title, description and custom thumbnail of your choice. The same video can be uploaded to your connected Facebook Page with an option to add a horizontal custom thumbnail.
For Instagram posts, you can add upto 2200 characters,30 mentions, 30 hashtags and location.
Already published posts on a Facebook page can be republished on the connected Instagram account directly.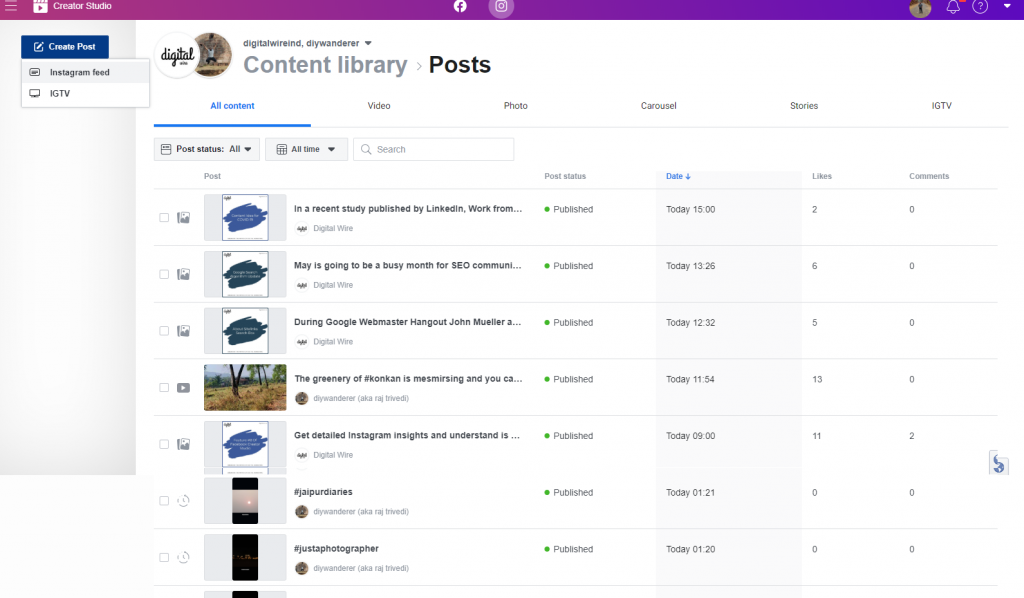 Content library
In the content library, you can schedule your posts and even can filter your content using filter status such as scheduled, published, draft and archived. With these filters, you can even apply date filter over the status filter to see your content.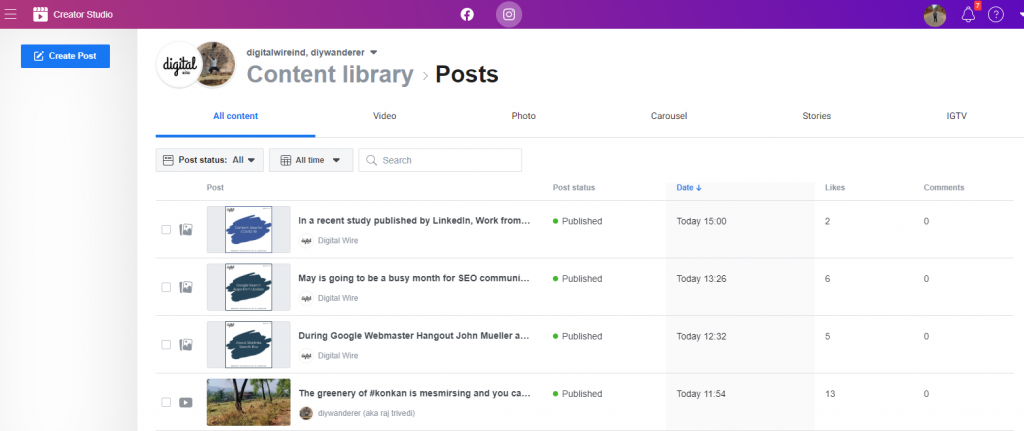 Monetization
You can monetise the Facebook page content but before that, you need to meet the eligibility criteria. Below is the screenshot of the eligibility criteria.
You can monetise only your video content and can also block specific categories of ads to be shown you can do that as well. For this, you need to have Admin access to the page. Over and above if you don't want to show ads of a particular page, you can manage that as well.
For example, If you don't want to show ads of your competitor's page then that can be done using the creator studio monetisation feature.
If you want your video content to be eligible for in-stream ads then a video must be 3 minutes long.
Sound collection of Facebook Creator Studio
Here you can find free and legal music tracks and sound effects which you can use in videos you upload to Facebook. You can explore music by using different filters like by genre, mood, length etc or just punching the keyword of your genre.
Instagram Insights:
Facebook Creator Studio also provides Instagram Insights which are divided under 2 sections which are Activity and Audience
What does activity insight provide?
Website visitors,
Profile visits
Calls
Text
Emails
Get Directions
Accounts Reached
Impressions
What does Audience Insight Provide?
Followers are from which countries, towns or cities
Also, it shows what time of day your followers are active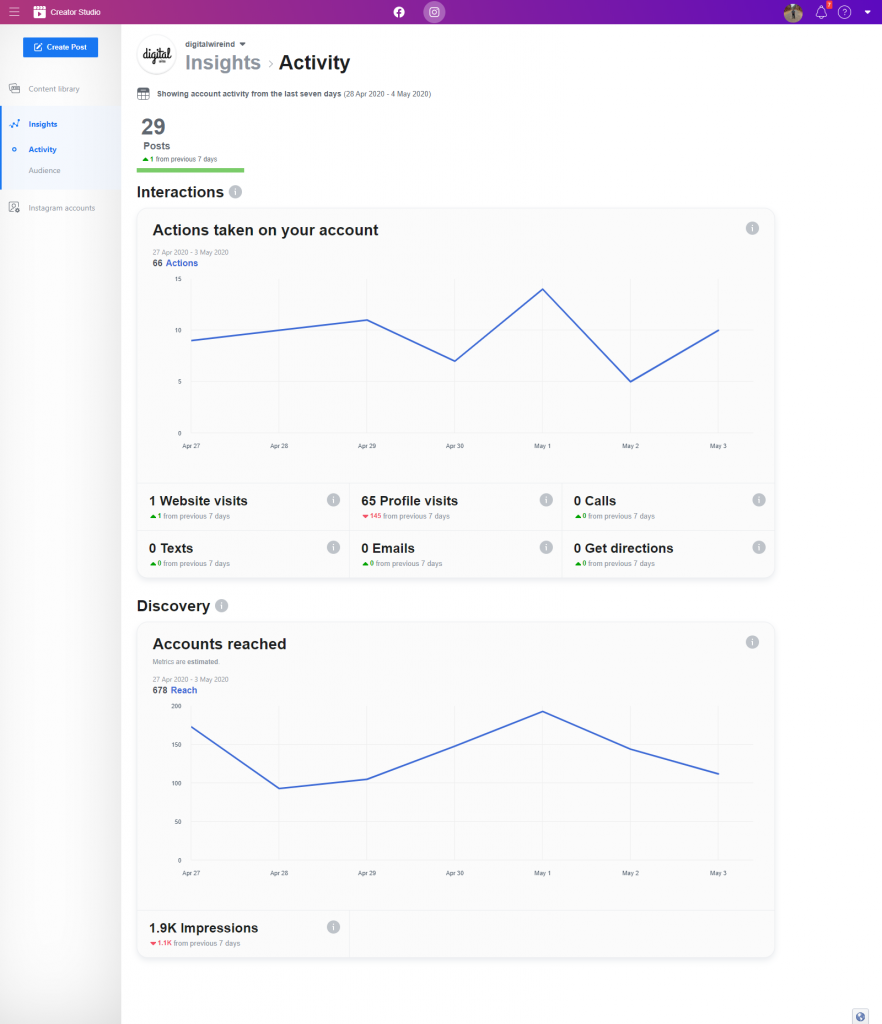 Best practices to publish
If you are publishing the same content on Facebook and Instagram. Here is an easy way to do it, in the creator studio go to the Instagram section then upload your images for a feed after than below there is an option of posting to Facebook, just check this option and you are all set.
If you are scheduling your post for Instagram and you want the same post to be scheduled but at different timing from for Facebook Page via an Instagram, this can be done from the same place. Also, you can Cross-post videos from content libraries across different Facebook Page only.
Do let us know what do you think about the Facebook creator studio and leave your valuable comments.